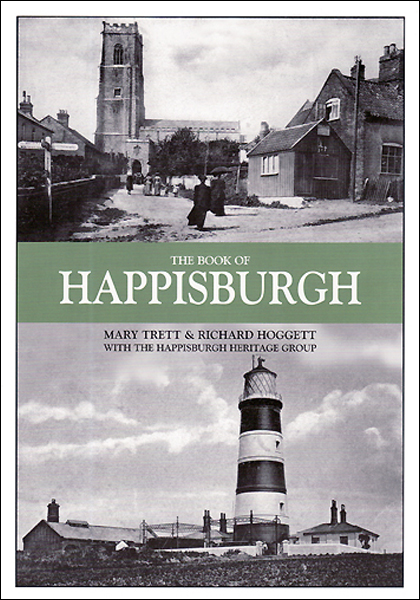 By Richard Hoggett and Mary Trett, with The Happisburgh Heritage Group.
Halsgrove (2011). Hardback. 160pp. 297x210mm. ISBN: 9780857040978. £25.00.
Famous for the erosion which has dramatically reshaped its coastline, the Norfolk village of Happisburgh can truly claim to have witnessed the full range of human history. Archaeological excavations on the beach have found evidence for the earliest human occupation so far discovered in northern Europe, while on the clifftops stand the medieval church, the Arts and Crafts Happisburgh manor and the iconic lighthouse. The surrounding fields contain traces of prehistoric burial mounds and two Roman farmsteads, as well as the remains of a WWII radar station.
This book presents Happisburgh's rich heritage, using archaeological drawings, aerial images, historical documents and old photographs to tell the story of this coastal community whose residents have literally lived their lives on the edge. The book is interspersed with biographies of local characters, which tell the story of everyday life, as well as revealing little-known episodes such as the case of the Happisburgh poisoner!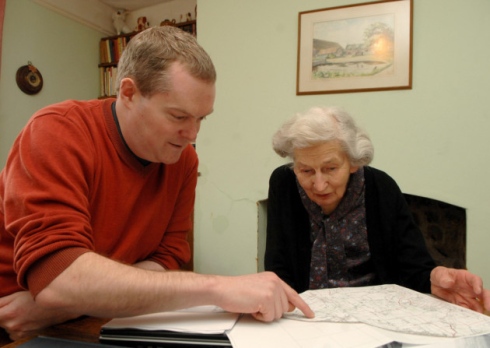 My co-author, Mary Trett, sadly passed away on 8 October 2013 at the age of 86. Mary's contribution to our understanding of Happisburgh's history was very great and she will be sorely missed. It was an honour and a privilege to work with Mary on The Book of Happisburgh and I was pleased to be able to help bring her many years of research to a wider audience. I know she was very happy with the results and the publisher described the book as 'one of the jewels in the crown of the series'. Mary's obituary from the Eastern Daily Press of 23 October 2013 can be viewed here.
All you would want to know about this lovely village and its history, built up around this coastal church. Read full review…

Five-star Amazon Customer Review
Some really great photos and an informative history of the village which is especially interesting about the 20th century and changes brought about in a rural economy. Read full review…

Four-star Amazon Customer Review
This hardback book is printed on durable quality paper and contains dozens of excellent photographs of village life past with very informative text … This is a great read for anyone who remembers the area with affection. Read full review…

Five-star Amazon Customer Review
I too spent many happy summer holidays in Happisburgh, and was delighted to find this book … If you've heard of Happisburgh, or ever visited it, I recommend this book as it'll bring back some smashing memories, and I also found out a truly amazing fact that made my jaw drop! Long live Happisburgh! Read full review…

Five-star Amazon Customer Review
Just received this book and wanted to congratulate its authors for a clearly set-out, informative and well illustrated volume.

Private Email from Reader
The book is fascinating, and with so much information. It is a really definitive work on the history of Happisburgh which will stand the test of time and provide a source of data in the years to come.

Private Letter from Reader